Business Units
Precision Machining
Casting Support
Inspection Services
Address
Princeton Tool North
Princeton Tool South
Phone
Princeton Tool North
Princeton Tool South
Fax
813-626-4523
Learn More At: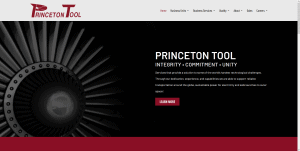 Princeton Tool is located between in Mentor, OH and Tampa, FL serving the Industrial Gas Turbine, Aerospace, and Medical industries. Princeton Tool provides pre-cast and post-cast casting support, CNC milling, and inspection services per your design and specification. Princeton Tool is AS9100 rev D and ITAR registered.
Princeton Tool was established in 1997 in Mentor Ohio. Princeton Tool takes pride in being the premier manufacturing facility that can offer customers tight tolerance turbomachinery components along with multiple pre-cast and post-cast support services. With over 110,000 sq ft of manufacturing space, the company has grown its operations to over 125+ employees and 150+ pieces of equipment across between two States. Supporting both national and international customers.
Princeton Tool is always advancing by continuously improving the manufacturing processes to provide on-time, on-cost, and on-quality products to the customers and partners.