Business Units
Precision Machining
Casting Support
Inspection Services
Address
25620 Rye Canyon Rd, Bldg A Valencia CA 91355
Phone
Fax
661-257-4932
Learn More At: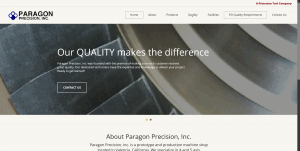 Paragon Precision is a precision machine shop in Valencia, Ca serving the aerospace, Outer space, and Naval. Paragon Precision provides CNC milling, CNC turning, and CNC grinding services per your design and specification. Paragon Precision is AS9100 rev D, ITAR registered, and JCP compliant
Paragon Precision opened its doors over 75 years ago in 1946 as a tool and die shop. Over the years Paragon Precision has pivoted from building tooling to manufacturing some of the most complex precision machining components on the market. Paragon Precision has been called on by industry leading companies to produced one off prototype or their production needs. Paragons committed to tackling some of the most complex machining products has garnered long lasting relationships with some of the world's top companies.
Paragon Precision manufactures complex precision machined components from Aluminum, Stainless Steel, Titanium, Nickel based Alloys, Waspaloy, Hasteloy, and many other materials. Manufactured Components range from blades & impeller, and Blisk. Paragon Precision is always advancing by continuously improving the manufacturing processes to provide on-time, on-cost, and on-quality products to the customers and partners.